How to generate additional revenue with Extras
We offer the facility for you to upsell extras on top of the base cost of a booking, such as hampers, a charge for dogs, electrical hook-ups and fire-pit rental.
You are able to create as many as you like.
You can also use the Extra functionality as a fact-finding exercise on the booking process, not necessarily for a chargeable product. For example, asking your customer "What accommodation type are you bringing?" and giving them a text field to provide the answer, "Tent, caravan, motorhome, trailer tent, etc".
To set-up your Extras head to Configuration>Extras>Choose Category>Choose Unit>New Extra and you will see this screen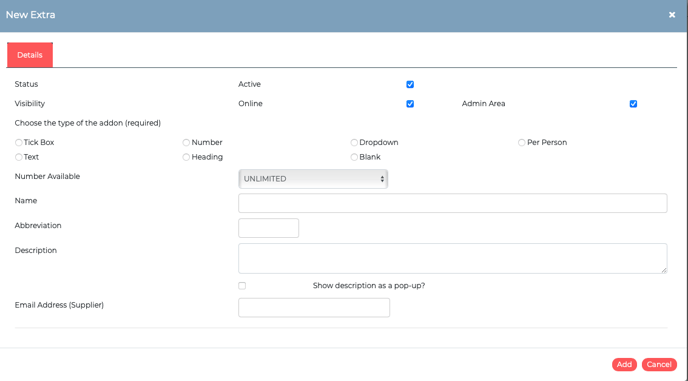 Details tab
Begin to create your Extra. Give it a name, an abbreviation, a description, set its visibility and its type.
Name your Extra

Give it an abbreviation for reporting purposes

This description will appear on the booking page along with the name you've given it above

If your description is long, you can enable the pop-up so that a '?' appears next to the add-on on the booking process over which a customer can hover for more information

Use the tick boxes to make your add-on visible online and in the admin area

Choose whether you want your add-on to be a Tick Box, Number, Dropdown or a Per Person Extra. You can also set a Limited Number Extra, a Header or a Blank to simply insert a space into the listing of your Extras on the booking page.

Examples of all of these options are deatiled in this article
Rates tab
Once you've clicked Add Rate you will need to choose the type, set the date range, and the price in the pop-up.
In order to make an Extra work, you must give it a rate – even if it's free, in which case you'd have to put in a rate of £0.00 as shown below. Also be sure that the Max Length of Stay is not left at 1 (which is the default). This means the Extra will only be applicable to stays of 1 night and won't show for any other stays.
The option of using the Percentage option in Rates is useful if, for example, you would like to add a cancellation charge as an Extra. This pricing option will calculate a percentage of both the base cost and party member costings but excludes the cost of other extras.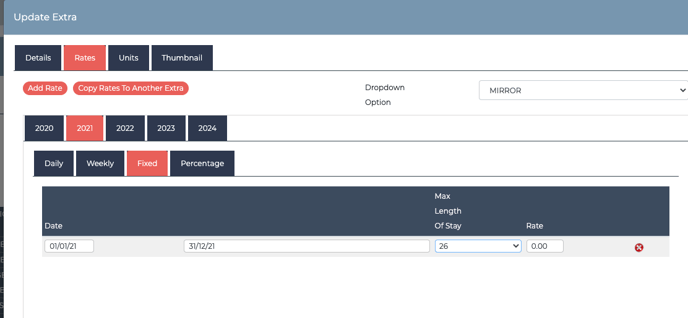 Units tab
Apply your Extras to any number of units under the units tab. Remember also to click on the sub-units tab to add the Extras to sub-units too.

If you would like to explore the 'Advanced Options' section of the extras please click here.

For examples of different types of Extras, please click here.