How to Manage your Bookings
Diary overview for existing campsite customers
This video is aimed at campsite owners and managers.
Welcome to our new and improved diary for 2023. Just be mindful that whilst we roll out the diary in BETA mode, we are still making some minor display changes based on feedback.
💡 If you have a unit that's set to reduce down by booking or occupancy, this is yet to be displayed on the new diary. This will be added in the new year.
If you have unit(s) set to multi-plot, this will display, but the new drag and drop functionality will not stop you from dropping a booking onto a pitch that's not suitable - we'll be adding these restrictions in the new year too!

In this video I cover:
How to optimise the initial load, so you can see the processing wheel less!
The general layout
Yearly view on units
Displaying rates on your diary
Blocking off dates and making a booking
No need to refresh the diary to see changes
Recording a note against the date or the unit
Moving bookings around
The KEY 🗝️ - as the new diary colour scheme is now based on payment status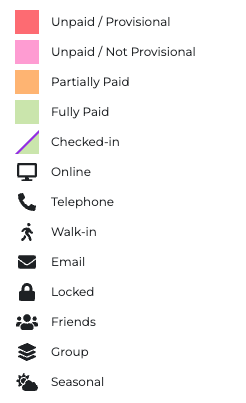 how to report a bug or quirk by using the link on the diary, or here.