Multi-plot is designed for campsite and touring park owners who want to know what the customer is bringing, which then determines the pitch to allocate
Please let the Anytime team know you that you would like to use Multi-Plot. This functionality needs to be enabled on your account.is great for campsites that have various pitch sizes for different sized vehicles or tents and makes sure each customer is charged appropriately for the size of vehicle and/or pitch size they require.
Categories. Config>Categories
Once Multi-plot has been enabled create your Category. Go to Config > Structure>Categories and create your category as 'Campsite or Touring Park' for example. Once the category is created, double click on the green bar and make sure Multi Plot Functionality is ticked in the details tab.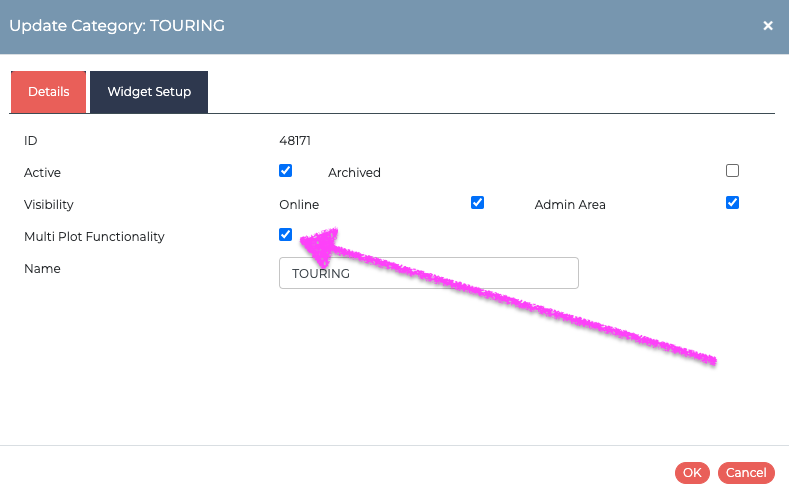 Units. Config>Structure>Units
Instead of labelling these the classic 'Hard Standing' and 'Grass Pitch', these will be the vehicle the customer intends to bring.
The most common entries are:
Single Axle Caravan
Twin Axle Caravan
Motorhome
Campervan
Tent
Trailer Tent
The order displayed here is going to be the order in which your online customer will view their options. Drag and drop the grey Unit bars to reorder these.
In addition to making sure the units are correctly configured you will need make sure Multi Plot Functionality is ticked within the Options tab.
Sub Units
We would suggest adding all your pitches to the first unit on the list.
Once the Category (park name), Units (what the customer is bringing) and Sub-units (the pitch the vehicle can go on), you can now start the Unit Allocation.
Unit Allocation. Config>Structure>Unit Allocation (Multi-plot)
Which provides a grid as shown below. The units are across the top and the pitches (sub-units) are along the left hand side. Using the tick boxes define which pitch can take what vehicle depending on its size. Like the example below, label the pitches (sub-units) as required. Some campsites have simply pitch 1, 2, 3 and others provide a little more detail, like HARDSTANDING.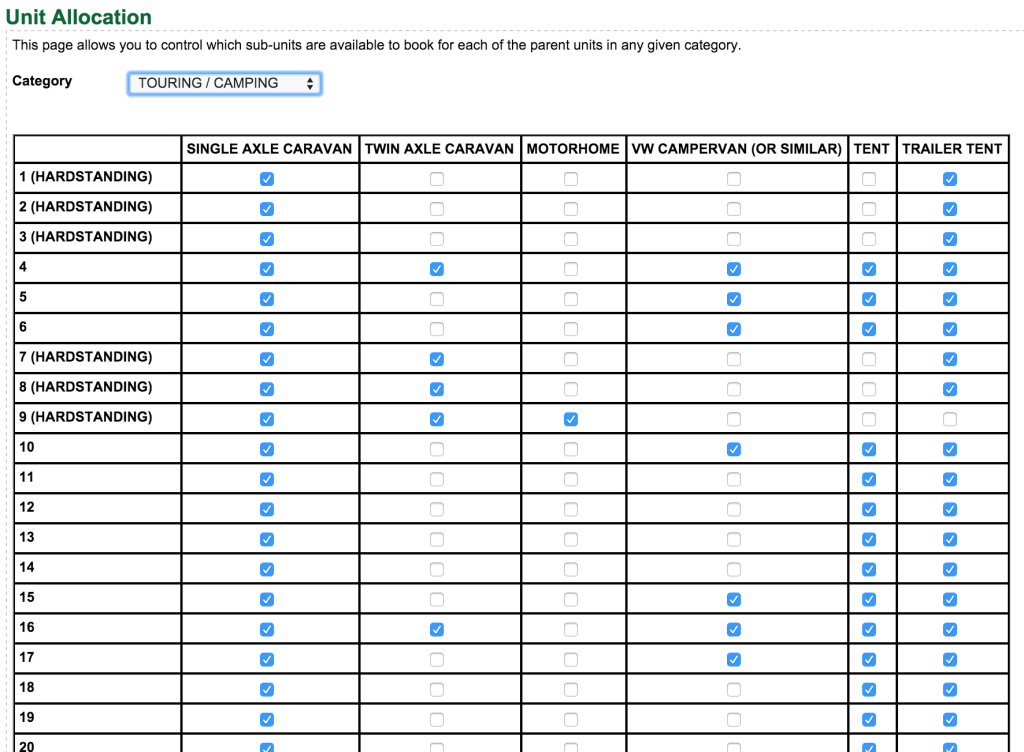 Continue configuring your account with content.
What the online customer will see
The most important thing to note, is when the online customer makes a booking, the units become the vehicle they would like to bring. They select the start date and the length of stay, then the pitches available will appear for that type.

Navigating your Diary chart.
Click on the Unit, Category and relevant pitches will be highlighted on the chart in multi-plot mode.
If you are in a multi-plot set up where you have plots mapped out based on the size of the tent/vehicle your guest is bringing to camp in, highlight your unit first at the top of the chart and the relevant plots will be highlighted for you in lilac.