How to set daily rates
Daily Rates (Config>Rates>Rates>Choose Category & Unit)
This is a quick and easy way of adding a nightly price with flexible changeover days.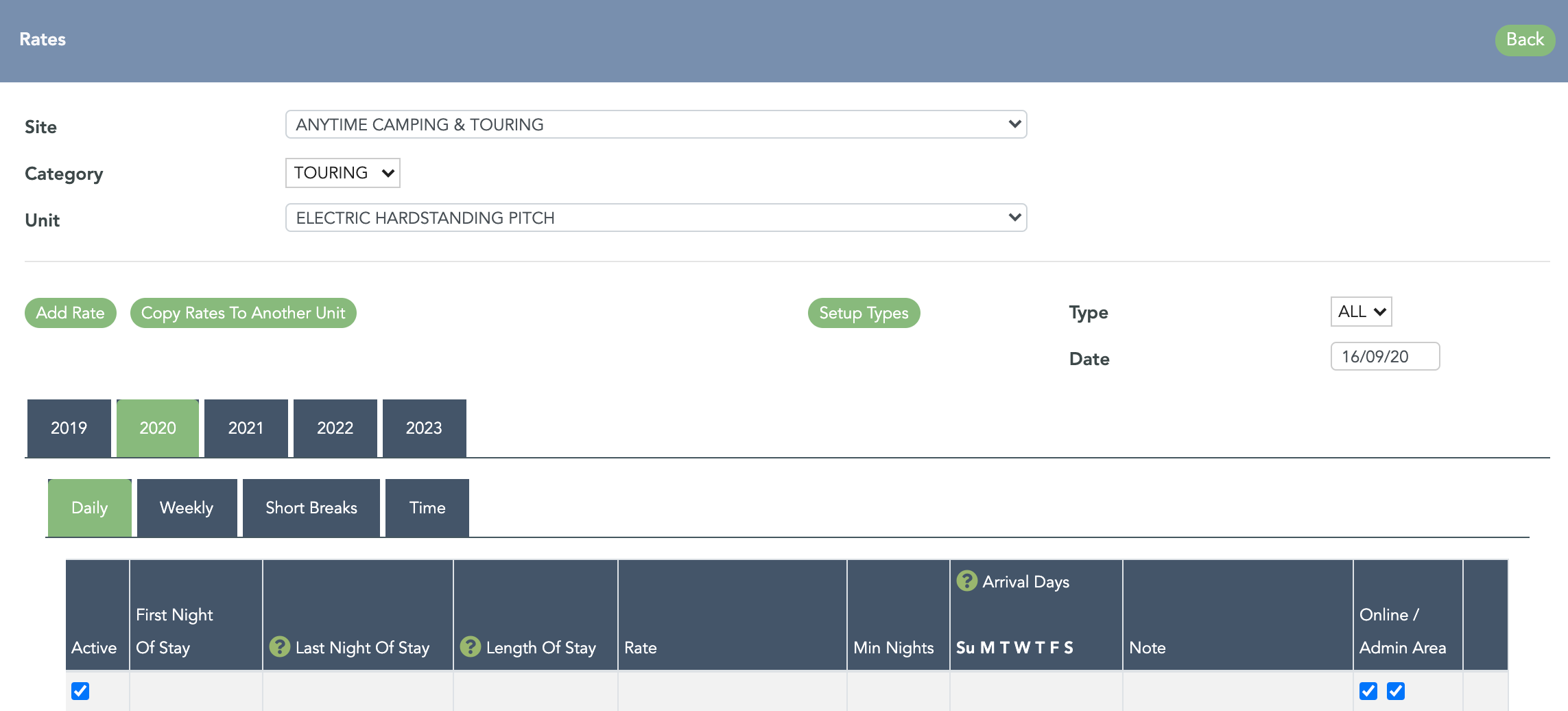 Choose Add Rate to bring up the pop-up box.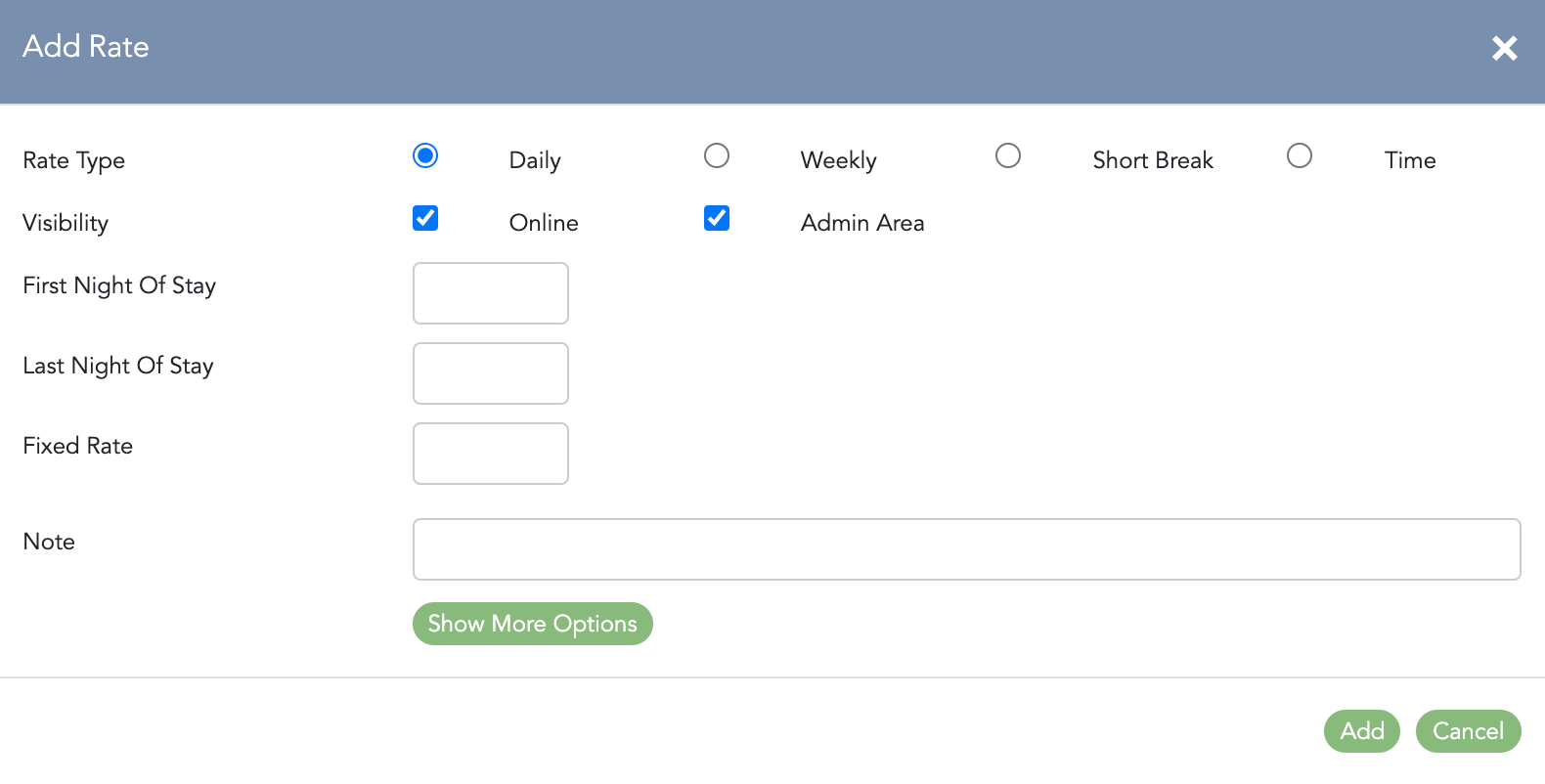 Then choose a Rate Type (in this case Daily) by selecting one of the radio buttons.
Mark the Visibility that you would like this Rate to have. Either for your Guest (Online) or just in the Admin Area (back office) or tick both.
Choose First Night of Stay by clicking on the box to the right where a calendar will appear, select a date from the calendar. Do the same for Last Night of Stay.
Add in your Fixed Rate which is the price per night. Add Notes relating to the rate if you need to for i.e Two Nights Min Bank Holiday Weekend
Once you have added your first band it will appear on the Rates page. Here set a Min Nights stay rule to stop people booking less than a certain number of days.
The Controllers in Detail
Active: Ticking this box switches the rate band on and leaving it unticked switches it off. To completely turn off the band to all you would need to untick the Online and Admin Area options too. You might want to switch off a rate band in the middle of the year for some reason, but not delete it off. Use this controller then.
First Night of Stay/Last Night of Stay: Calendars to choose dates. The days of any band refer to the FIRST and LAST night of the actual stay. So, a three day weekend band from Friday to Sunday means your guests arrive on Friday, stay 3 nights -Friday, Saturday and Sunday - and depart on the Monday.
Length of Stay: Use this when you want to charge a different price per night depending on the length of stay, but over the same date range. Here is more information on length of stay pricing.
Rate: Enter here the price per night of the stay. It is always a price per night, even if you choose Length of Stay pricing.
Minimum Nights: During the date range, the online guest has to comply with a minimum nights stay. So, if this is set at two, the guest has to book for 2 or more nights within this date band.
Arrival Days: The week here starts on a Sunday. You can control the Arrival Days by ticking the corresponding box for selection, and leaving it unticked if it's not an Arrival Day. Arrival Days and departure days are the same on this controller, so once selected as an Arrival Day, the Guest will also be able to check out on this day. This means that you will need to consider your departure days too. In the example below there is a 3 night minimum and Arrivals/Departures on a Monday/Weds and Friday.

If you set a daily rate for the year but want to charge more in peak season, or for a special event, you would need to split out those date bands to change the rate. See below for an example.

Online/Admin Area: Tick the left hand side to show the rates Online, the right hand side boxes to show the rates in the Admin Area. There may be instances when you want to switch off your Online rates, so that the customer can't use these to book a stay, do that here. You may have some dates that you want only Admin to see, so this controller gives you those options.
Please Note: If you try to add in date ranges where the dates overlap and you aren't using the Length of Stay Pricing you will get a warning and your rates won't work correctly. Make sure one date finishes before the other starts i.e if your Last Night of Stay ends on the 31st March, then your next rate band in First Night of Stay needs to be the 1st April.
Remember to refresh your availability after you have completed your rates.

FAQs:

Can I delete all my rates?

No, but you can use the red cross on the right hand side to delete individual rate bands.

If you want to delete all rates (for example when using the CSV uploader) please email support@anytimebooking.co.uk