How to add in length of stay rates
Normally, you are not able to have more than one price in the same Rate band. However, if you have a different price per night based on how many nights a guest wishes to book, then the system will allow you to input these rates for the same dates. This is called Length of Stay Pricing.
Config>Rates>Rates>Choose Category & Unit

In this example, rates will be set for the same dates for stays of 3, 4 and 7 nights but the price per night will be different for each length of stay.
Choose Add Rate to bring up the pop-up box.

Then choose a Rate Type (in this case Daily) by selecting one of the radio buttons.
Mark the Visibility that you would like this Rate to have. Either for your Guest (Online) or just in the Admin Area (back office) or tick both.
Choose First Night of Stay by clicking on the box to the right where a calendar will appear, select a date from the calendar. Do the same for Last Night of Stay.
Add in your Fixed Rate which is the price per night. Add Notes relating to the rate if you need to i.e 3 night price

Now click on the button Show More Options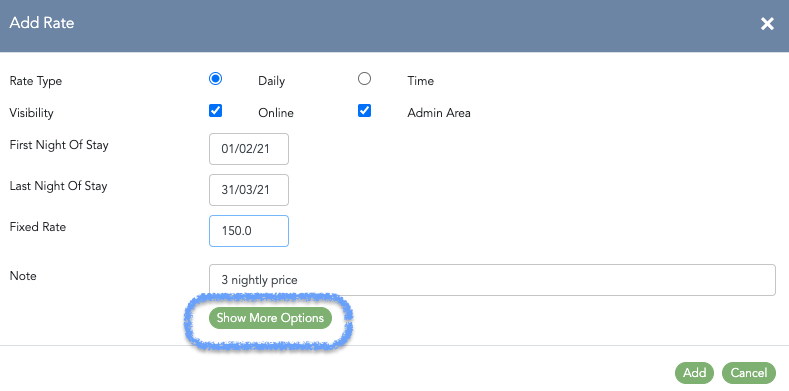 This now displays Length of Stay.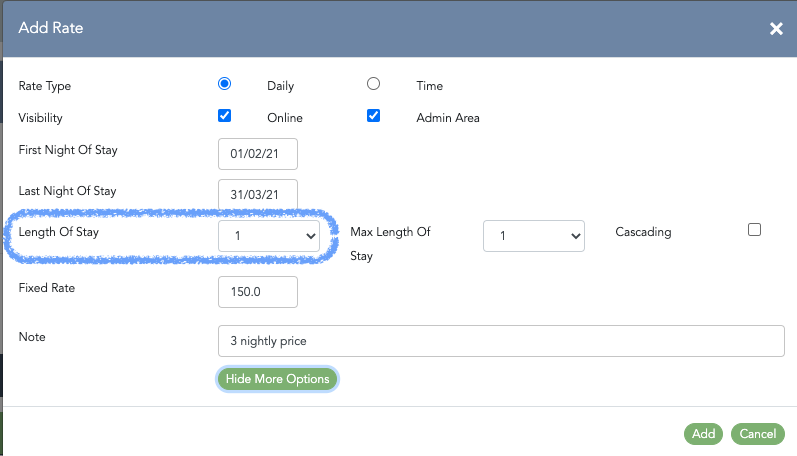 For the first date band entry choose 1 as the Length of Stay. This is a safety measure and ensures any overlapping nights from the previous date band are charged correctly and are not completely free to your guest!
Now, complete the same process for the 4 night stay and the 7 night stay prices selecting exactly the same dates each time, but selecting 4 and 7 from the Length of Stay dropdown list.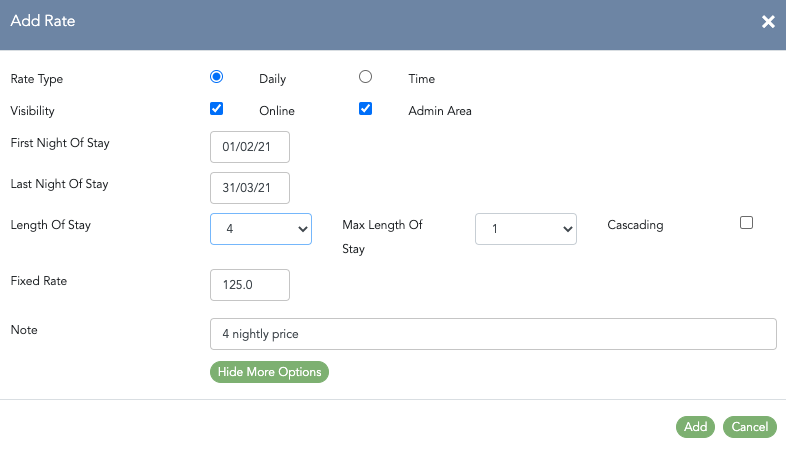 After all bands have been added, amend the Min Nights dropdown to match the first Length of Stay period - in this example 3. This will ensure that anything under the minimum number of nights cannot be booked.



The Rates screen for Length of Stay pricing with3, 4 and 7 night stays in the same date bands, will now look like this.



You can now select your Arrival/Departure Days
The example below shows Monday and Friday. This will now set the rules for this particular date range, allowing 3, 4 or 7 night stays from Mondays and Fridays only, The 3 night stay will always start on a Friday, and the 4 night stay will always start on a Monday. The 7 night stay could be either.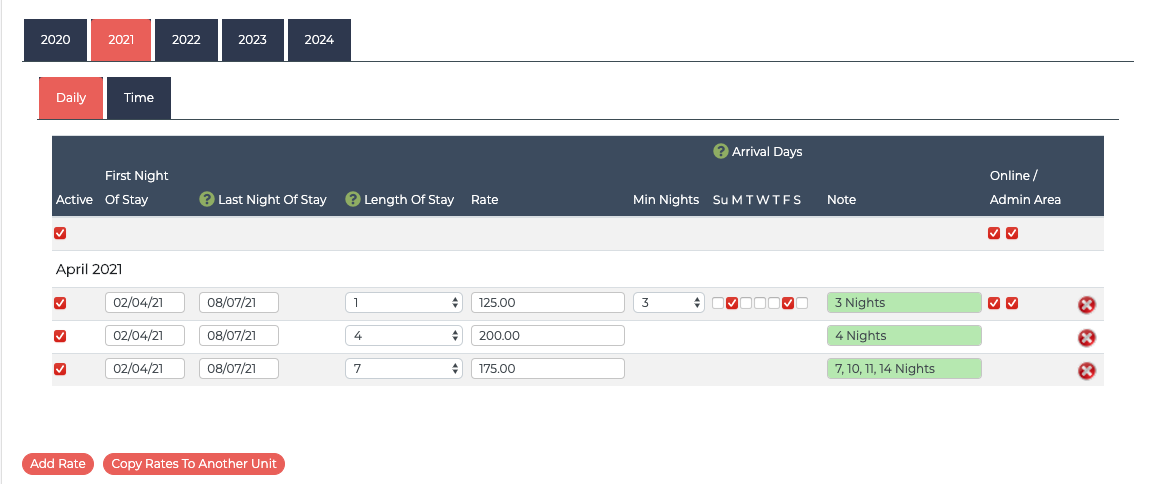 Length of Stay pricing can be used for anything from 2 nights up to your maximum allowed stay leaving all Arrival/Departure days selected if you allow this much flexibility.
Common Length of Stay rate compilations might incorporate 3, 4, 7, 10, 11 and 14 nights.
Please Note: Any changes to the Rates section mean that you need to Refresh Availability

FAQs:

Can I delete all my rates?

No, but you can use the red cross on the right hand side to delete individual rate bands.

If you want to delete all rates (for example when using the CSV uploader) please email support@anytimebooking.co.uk