By using our Owners Module, you'll see extra features that will streamline your agency processes
Watch our 15 minute overview video to learn more.
Some of the features you see:
Additional Unit settings for storing Key Codes, property address and documents
Setting property commission values
Creating Owners and Housekeepers, and assigning them to properties
Owner and Housekeeper email notifications
Recording Expenses and Credits
Reporting on Owner revenue and expenses
Exploring our API for more advanced ideas
Additional Unit settings for storing key codes, property address and documents
You'll notice four extra tabs within the unit settings once you have the Owners Module enabled. These are: Commission, Users (read only), Location and Documents.
The extra field you'll see is the ability to store the key code on the unit itself. This can be outputted into an email or text message token.
The video above will give you a good overview of these tabs and what's included.
Setting property commission values
You can set more than one commission value against the unit.
To set the Commission Rate on a property, go to Configuration> Structure > Units> double-click on the grey bar with the property name for which you'd like to set the rate then go to the tab Commission.
We would suggest initially creating a commission rate called 'Default' and then adding another if you need to. All future bookings will default to the first commission value set.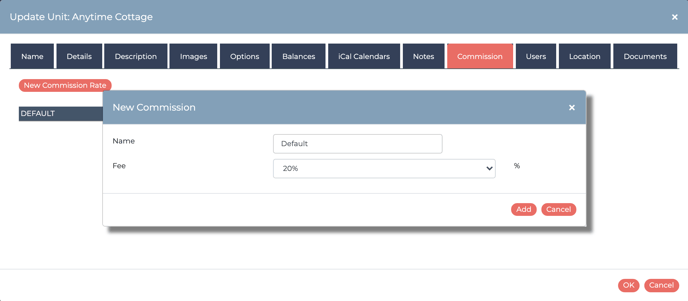 If you have more than one commission rate set, you can select whichever one is relevant when making a New Booking or from within the booking once it's been made.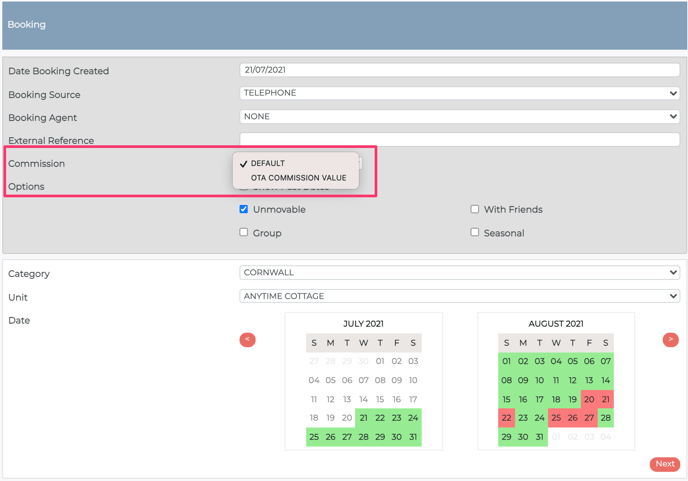 You can also change or set the commission rate after the booking was made. Click on 'Make Changes' to choose your commission option and save.



Creating Owners and Housekeepers, and assigning them to properties


There is no limit to the number of users you can create within your Anytime account.
We have five types of user access:
Staff is for your administrators and booking managers to log in and use the system.

Housekeepers (Legacy) is a very limited login credential which only allows the housekeeper to view the cleaning reports.

Owners is where you can assign owners to their associated properties and allow them access. You can decide how much you would like them to see.

Suppliers have no login rights, but you can assign a supplier to a property in which they can receive a notification when an Extra was selected as part of the booking (you can read more about this feature, here).

Housekeeper (Agency) has the same features as the Owner, just a different label. This allows housekeepers to login, see bookings and generate reports. Like the Owner, you can decide how much, or little information you'd like them to see.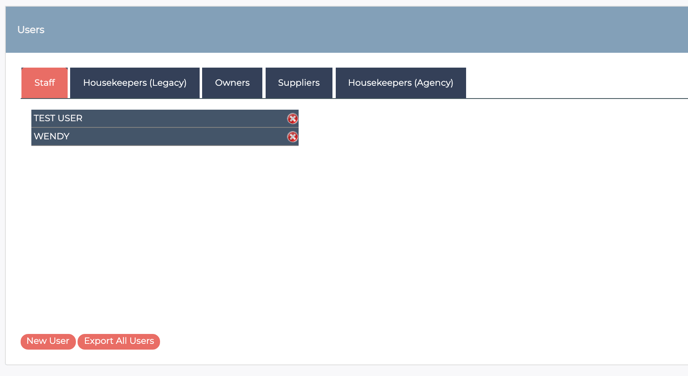 Assigning owners or housekeepers to properties
Open the Owner or Housekeeper login setting and head to 'Units'. From here you can assign a unit to the Owner.

If you have a scenario where you have two Owners, just untick the 'Only Show Unassigned Units' and you'll see the units assigned to someone else.



Owner and Housekeeper Notifications

Once each Unit has an Owner or Housekeeper assigned to it you can choose to send an Owner or Housekeeper Notification email to them whenever there's a new booking.

You can action the email notification at the point of processing a booking. At the end of completing a telephone booking, you'll be prompted. Just untick the boxes if you didn't want to notify the owner.



You can push the email notification after the booking is made. Head over to Manage Bookings and highlight the booking you want to send. The moment you notify the Owner, you'll see an asterisk appear on the right hand side of the booking list.

We can automate the Owner Notification, so this automatically notifies the Owner of a new booking the moment a payment is recorded against it. Just chat to us about switching this on for your account.

To edit the content of the Owner and Housekeeper notification email, head to Configuration > Emails.

Recording Expenses

If you are looking after a property where you need to mark expenses against the property and deduct from the owners earnings from booking income on a regular basis, you may find the expenses area useful for this.

Go to the left hand menu bar and Owners> Expenses & Credits> Expenses. When generating an expense, you can assign the date you were invoiced, the date you are processing it, the name of the expense itself as a free text field (e.g. cutting the grass) and the supplier. The supplier field will automatically look for any supplier already set up within your User Settings. Then add your charge and the quantity, and the total will be worked out for you. Once you've clicked Save, it will be viewable below for your reference.

Generating Reports

Expenses Report
Generating an expense report allows you to export all expenses during a financial quarter, or during a fixed date range. You can export on one or all properties on your account.
Commission & VAT Report
The Commission & VAT Report is a way of tracking the total income of your bookings on each property on your account. This is broken down by the commission you have charged, minus the VAT. The VAT element of your commission, the commission including the VAT, the total cost of the expenses recorded and what you would have paid the owner.

Owner Summary Report
The owner summary/statement allows you to generate a report based on the property owner and all their assigned properties, or by the property itself. If you leave either the owner or unit fields blank, it will generate a report for everything.
This report is not viewable on screen, but is exported as a webpage, PDF or .CSV
Unit Money Holding Report
This is a simple report that allows you to quickly view the monies received, or waiting to collect during a quarter or date range. To get the full financial details, generate a Bookings Report.

Report Configuration
You can create a custom header to any of the reports above. Use the WYSIWYG editor to pull in any images and any other information you would like to display when generating a PDF of any report.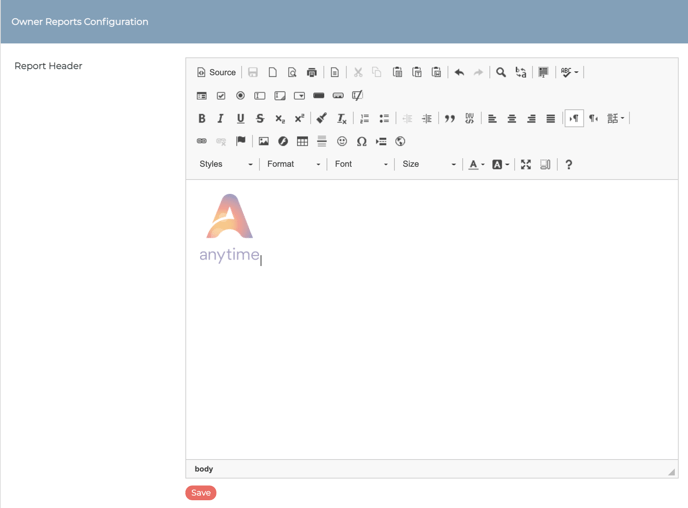 If you are looking to do more than what is 'out of the box' in our Owner Modules, chat to us. We do have an extensive API where you can build your own processes around Anytime.