The below guide will outline the setup process from start to finish for your CL site
Once you have logged into your Anytime Booking account select your initials on the top right hand side, followed by
Configuration
.
Categories (Structure)
Select 'New Category' and add in the name of your CL site or the accommodation you offer such as 'Touring'. Remember to press '
OK
' on the bottom right hand side on completion.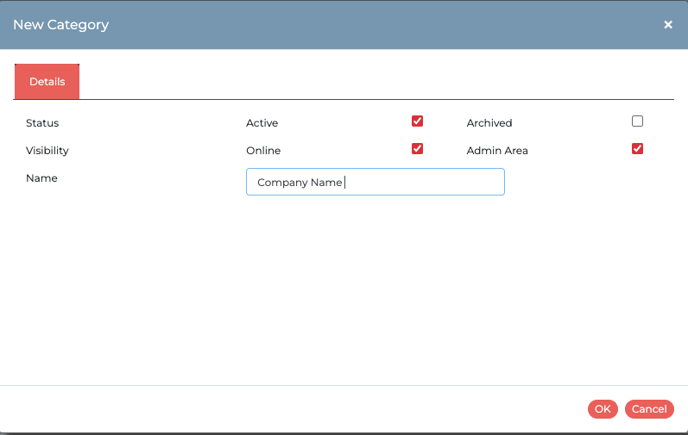 ---

Units (Structure)

Units are the pitch types you offer such as 'Hardstanding Pitch'.

Use the 'New unit' button to firstly add in your pitch type and unit type (ensure online and admin area are ticked). Once completed, press 'OK' on the bottom right hand side.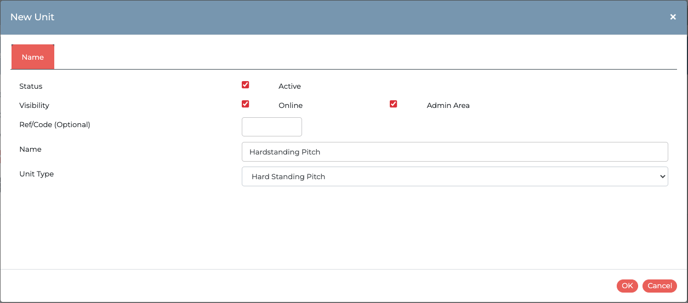 Double click back into the pitch type and complete the following tabs.
Details:
Online & Admin Occupancy: (how many people you would allow on one pitch at a time). Online is the guest facing maximum, and the admin area maximum allows to to 'break the rules' and add more people onto a pitch.
Arrival & Departure Times: these can be filtered into the automated emails.
Options:
Take Enquiries Only: if you do not wish to take direct online bookings please discuss this option with your onboarder.

Pet Friendly: tick here if your site is pet friendly. This will allow your guests to select 'yes' or 'no' to bringing a pet, which will then provide additional costings for pets if applicable.
Automatically Cancel Provisional Bookings: if you wish to automatically cancel online bookings without payments please discuss with your Anytime Account Manager.
Advance Online Booking Notice: decide how many days in advance you would like notice of a guest booking online (if not set this will default to 2 days).
Auto Confirm: when bookings are created they will appear in the 'New Online Bookings' box on your Dashboard. You can choose to manually confirm these (so you can internally vet the bookings) or alternatively switch on 'Auto Confirm' which will remove the bookings from the this box.
Max Length of Stay: this will default to 28 nights if not set, however you can choose to reduce this if preferred.
Balances:
This section can be used if you are asking for a deposit payment, followed by the balance X number of days before arrival.
Note: If you are asking for full payment on booking, or are not collected payment until arrival the balances section does not need to be completed.
Enable the balance reminder
Set when the balance is due (e.g. 14 days before arrival)
Decide when you would like to reminder email to be sent (e.g. 21 days before arrival, giving the guest a week to log-in and pay).

Location:

You can enable What3words for your site which can be embedded directly into your emails. Here is more information for you.

Ensure you press 'OK' on the bottom right hand side on completing.


---


Sub-units (Structure)

Sub-units are the physical pitches that you have. For example 'HS Pitch 1 - 5'. Here is a guide on adding in your pitches.


---


Deposits (Rates)

If you are asking for a deposit on booking, you can decide on a daily, fixed or percentage amount here.

Guide
Note: If you are asking for full payment on booking this section does not need to be completed.
---
Rates (Rates)

The rate section is for you to add in your season opening times and nightly pricing. Whether this be a fixed rate throughout the whole year, seasonal price changes or a change in the minimum number of nights.

Guide
---
Party Members (Structure)

As default the software with ask for the number of people (based on your occupancy settings). If you would like to find out the breakdown of Adults, Children and Infants you can add this information here and set max numbers of each.

Guide
---
Party Details (Structure)

The software will always ask for the main billing person's details only (first name, last name, address, email and phone number). If you would like to find out more information from all members of the party, or simple a car registration you can enable this in the party details section.

Guide
---
Extras (Structure)

You can use this section to upsell (dog charge for example) or simple as the guest a question such as 'What is your CAMC membership number?'.

Guide
---
Emails (Documentation)

We have a number of different emails that can be sent from the Anytime Booking software. Most of the emails have templates in place which you can choose to switch on and then edit if required.

Guide
---

Terms and Condition (Documentation)

Simply copy and paste your T's and C's under 'All Units' and click save at the bottom. These will then display in the templated emails, and for the guest when making an online booking.
---
Styling / Payment Provider

Your onboarder will be able to talk you through the styling of the booking process to match your website and which calendars would be suitable for you.

As well as this, they'll be able to link in your payment provider.
---
Current Bookings

Before going live with the Anytime Booking software you'll need to ensure all your current bookings are in place. Once completed your onboarder will check over your account for you to make sure everything in place.

Guide