You said, so we did - changes to the display and functionality of your Diary
New Diary or Old Diary
You can now choose which Diary you would like to see as your default view.
The menu option that was called called Diary is now called Legacy.
The menu option that was called Diary (BETA) is now called Diary.
Your preferred view can be selected by user and by device in Your Account (under your initials, Diary Settings).
Please note: Whilst the Legacy Diary is available as a preferred view, this version of the Diary will no longer be supported with future developments.
If you preferred the full (squared-off) cell colour of the Legacy Diary, this is now an option in the new Diary view. See below....

Occupancy based accounts will need to use both Diaries for the time-being. Clicking on the Diary menu option will bring up 2 options to toggle between, Availability and Occupancy.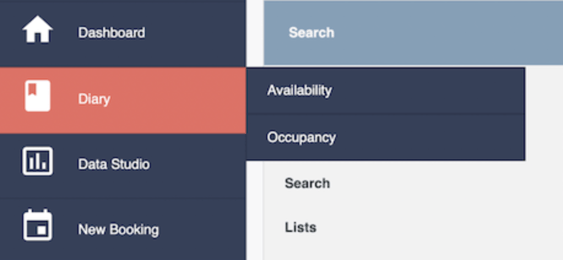 Time-based accounts will need to continue using the Legacy Diary as found under your initials on the top right for the screen.
Bookings and Block-offs
Within the settings in 'Your Account' you can now choose how you would like the coloured bars in your Diary to appear:
1 Slanted ends
2 Rounded ends
3 Full cell blocks
These preferences are saved by user and device.

Amending Long Block-Offs
Long block-offs can be added for any period of time by clicking on a start date, scrolling forward and selecting an end date. This super quick way of adding a block-off is effectively creating a single 'booking' for that period.

However, sometimes you may wish to unblock a few days, or a week in the middle of a long block-off period. This is now possible by choosing the first date you wish to unblock, then the end date and clicking save.

This short screen recording shows you this in action.