How to make Multiple Bookings in your Anytime Booking account
There are two ways to make multiple bookings.
Option 1: When you are making a booking in the back office, the most commonly used method is to follow the booking process through to the point just before check-out and payment and click yes to 'Would you like to make another booking'.
Option 2: The second way to make a multiple booking is by selecting the Multiple Sub Unit button next to the unit pick-list at the start of a booking, but this is really designed for block-booking rallies as it carbon-copies the first sub-unit booking and applies the same data to each subsequent sub-unit.
In both instances each unit and sub-unit will have a unique booking reference number.
Option 1: Making another booking with one checkout payment (telephone booking)
This is the best way to make multiple bookings, where each booking has it's own Unit, Party Members, Extras and any notes you'd like to add with one checkout payment at the end of the process.
If you are making 3 or 4 bookings and want to take one payment for the deposit payment, this is the best way to do this. Each booking is summarised in the Summary Box on the right hand side of the booking process and when you take a deposit payment it is distributed equally between the number of bookings you have taken.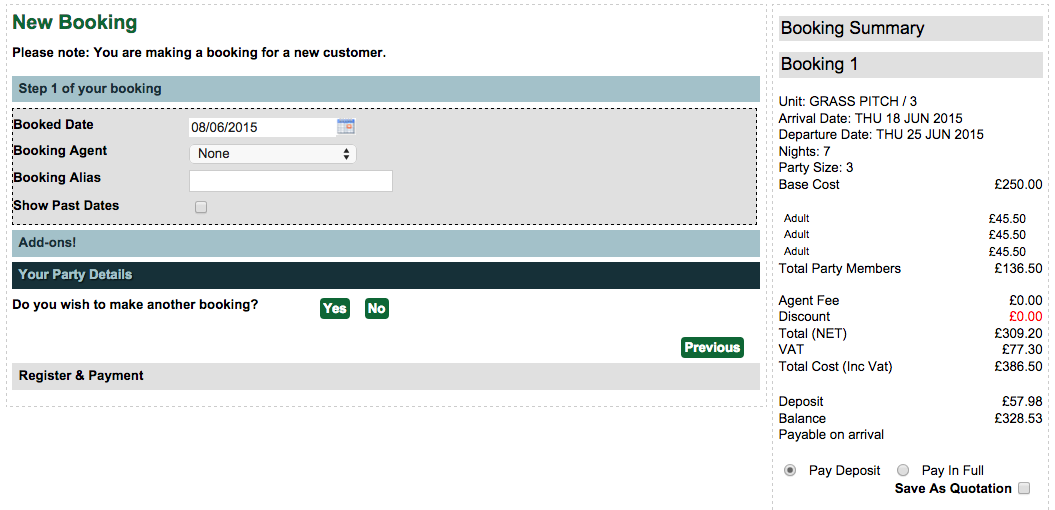 Remember, before you start your second booking, you can adjust any costs before moving onto the next stage.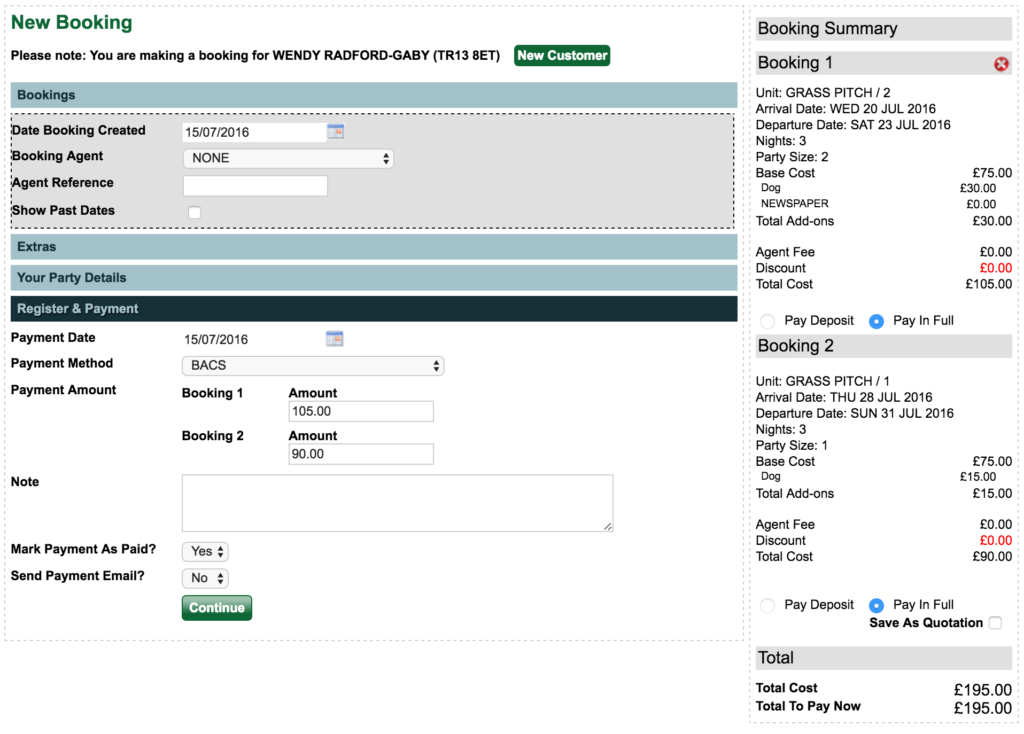 Repeat the same exercise with your next booking(s) with choosing the unit, date, party members and AddOns and so on. When you've completed the bookings needed, you can then search for your customer record or add a new customer. On the next stage where you say 'yes' to recording a payment, you'll be given the usual payment record screen, but you'll notice 'Booking 1', 'Booking 2' and so on. Each one will have either it's deposit or full amounts against them. You can always override the payment amount if you need to.
Option 2: How the 'Multiple Sub Unit' button works
This button is designed to be used for campsites wanting to place a rally booking.
You can use this feature after clicking on 'New Booking'. When you have selected your date and number of nights, you will have to select your unit/units. If you are selecting more than one sub-unit you will need to click on the 'multiple sub unit' button – here you can pick your pitch from the drop down button and assign it to the booking. You can then do this continuously with each pitch you'd like to add.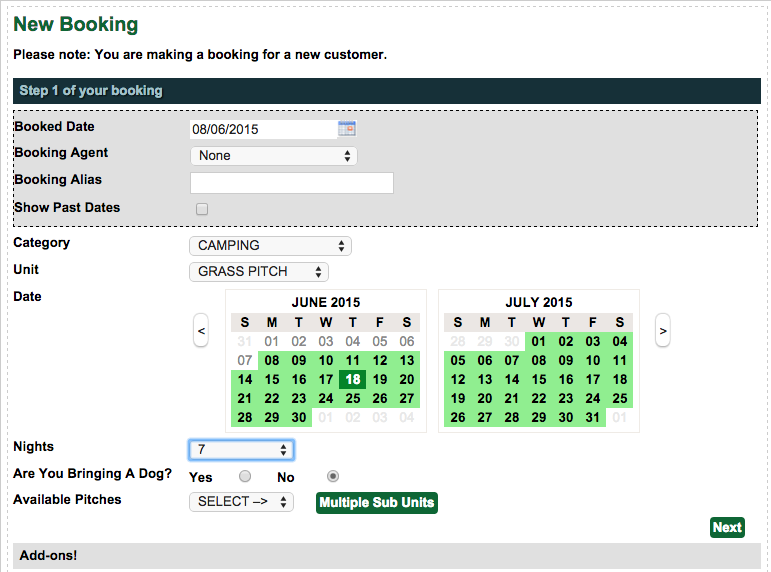 I
f you add 15 other sub-units (pitches), in effect you are creating 15 bookings in one go.
At the moment, when completing a booking where you've added multiple sub-units using this button, it will send the main organiser of the rally 15 individual emails for each pitch booked. You can choose not to send any emails at the point of checkout and instead write an email to the organiser with the total price to pay.
As people arrive for their rally holiday, you can update the individual party details for the booking.
Please note: we intend to improve this feature in the future to automatically send the organiser a total rally amount.
How this appears on your cash list
When multiple bookings occur, they will appear as together on your cash list.