Connecting with OTAs using iCals
iCal calendar sharing with VRBO
How to connect your Anytime Booking Account with VRBO
Step 1
On Anytime Booking click on Setup > Configuration > iCal Feeds > Drill down to specific unit > Select iCal links and then copy the link under 'Export URL'.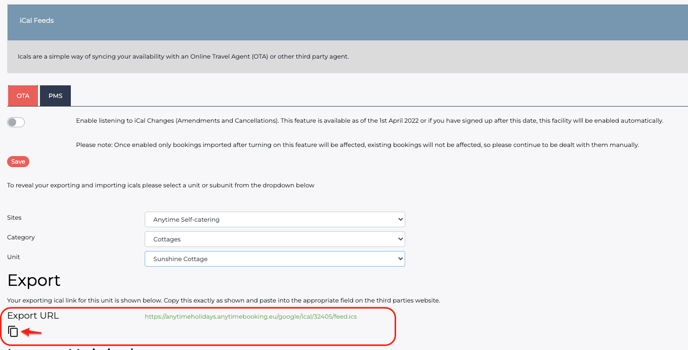 Step 2
Log into your VRBO listing and follow these steps:
Select the listing if you have more than one rental property.
Select Calendar.
Select Import & export.
Select Import a calendar to open the edit panel.
Paste the calendar address in the URL field.
Change webcal:// to http:// in the URL.
Select your preference for calendar block availability.
Name the calendar.
Select a color.
Select Import.
Step 3
Select Export and cop the ical link from within VRBO.
Now go to your Configuration area, scroll down to iCal Feeds, select the correct unit, head down the page and paste the VRBO iCal in the Branded box and click Update.