Gathering together the information you'll need
Initially you'll speak with our Front End Developer over a video call and choose a templated design that you like. The next stage is gathering together information, text & images to enter onto your site. Please see the timeline for Dawn package here
We encourage you to make a mood board with 'the ingredients' of your website for inspiration and direction. Essentially a mood board is a collage of ideas.

Mood board example: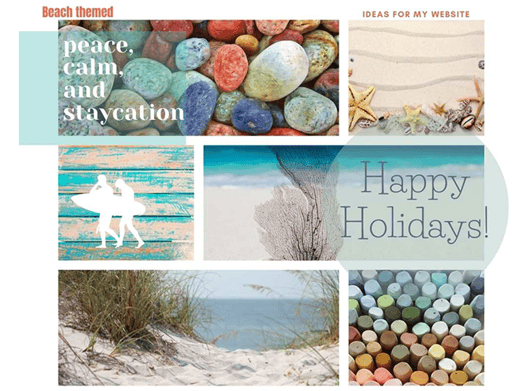 Start by assembling images, fonts and colours you like and reference other websites that appeal to you (URL links are fine). Put together in a 'scrap book' on one page. This will give you something to aim towards.
Gathering together all the text in a Word document is where to begin even if you're copying from your old/current website.

1. Make sure it's finalised
Finalise your content before you start entering it into your Dawn template. Making sure you have all the text completed, spellings and grammar correct in your Word.doc first will help you during your build.
2. Start each webpage on a new Word page
Use a different Word page for each page of your website or a very clear division between each, and label each one 1, 2, 3, Home, Contact, etc, etc
3. Images
Don't copy & paste images into your Word document. Word will compress your images so they won't be of any use online. Make sure any images you're going to use, including your logo are in either JPEG or PNG format as separate files. If you have trouble with this, then please let us know, we might be able to help convert your images.
Image Requirements:
Min size 300px X 300 px
Max size 1000px X 1000px.
Format: JPEG or PNG
Once you have all the details ready and finalised you're ready to start inputting into your template.
If you do need to send us any images please use either We Transfer or Google Drive. We prefer We Transfer for sending larger files and it's free to use:

https://wetransfer.com/