Email Marketing Segments
To create email marketing segments, you should have already synced your Anytime Booking account – click here if you haven't already done this.
Email marketing is a powerful and cost effective way to communicate to all or some of your customers. Segmentation enables you to specifically target a group of visitors – For example, you may want to email every one who stayed with you last year, but hasn't book with you this year to date, or, you want to email everyone who has ever stayed that came with a dog.
This article will show you how to create email marketing segments.
1. Make sure your account is fully synced before creating a segment. Go to Setup > Marketing > Email Marketing > Setup > Start Sync. We would always recommending starting your sync the day before sending out any campaign to allow the systems time to complete the sync.
2. Now log into email marketing account by clicking on the log in area (within Anytime Booking – same place as above!) or through this link http://emarketing.anytimebooking.eu/ First of all go to your List and Subscribers and click on the Anytime Booking Master List. You should clearly see that Anytime Booking have been automatically updating data to this list on a regular basis.There are two specific areas you will interactive with; Custom Fields and Segments. The custom fields are all the booking data you may wish to filter using segments. Click on Segments.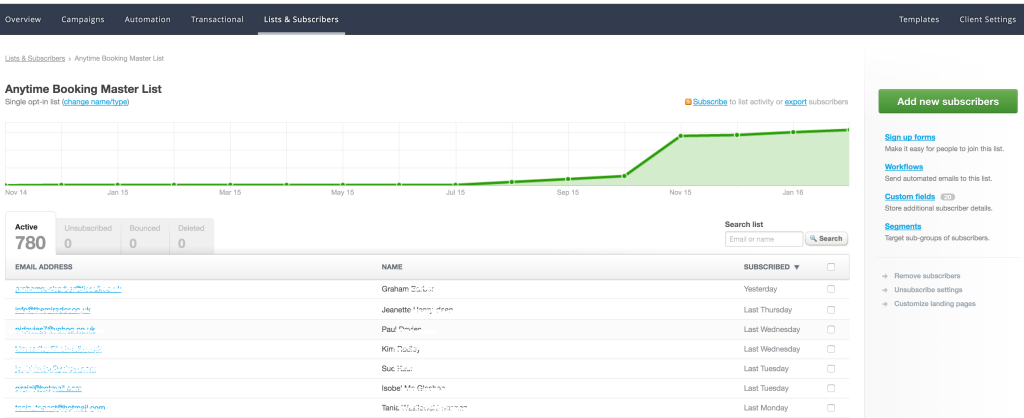 3. Now you can start to create a segment based on filtering your booking data. Below is an example based on everyone arriving in 2016, who have not requested the AddOn named 'Cream Tea'. In this example, the purpose was to email everyone who didn't purchase a cream tea (this was an option in the AddOns section of the booking form) and see if they'd like to upgrade their booking.When filtering AddOns, you can search for just a word that's contained in the AddOn name itself – this could be Dog, arrival time, or anything else in the title of the AddOn. If you want to bring back the results of everyone who didn't request any AddOn, just filter with 'addons … which does contain … none'.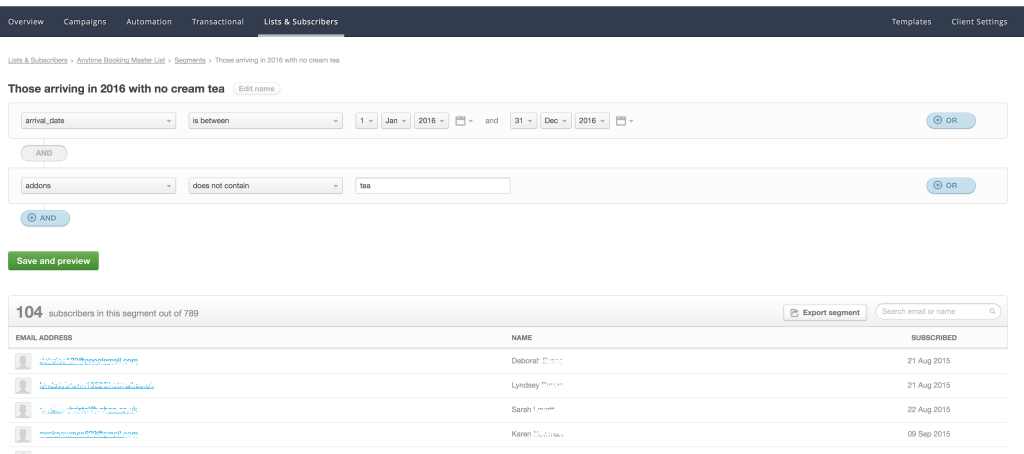 4. By clicking on the email address within the preview, you can see all the data fields that particular customer has.
If you have any questions around creating your own specific segments, do email support@anytimebooking.co.uk
Did this answer your question?