How to display VAT on Bookings within your Anytime Booking account
When you add your rates into your Anytime Booking account, this is always inclusive of any VAT charged to the guest.
Please note that Anytime Booking is not an accountancy software which provides VAT invoices to guests.
Our VAT feature is only to display the cost breakdown at the point in which your guests make a booking online. This breakdown can be displayed again in your automated payment emails if you are using the appropriate email tokens (see below).
With the recent Government changes to VAT - increasing from 5% to 12.5% on the 1st October 2021 and then back to 20% on April 1st; it's worth noting that whatever VAT you have stored in your account at the time of booking is the one that is fixed for all payments
i.e. if you change this value on 1st October to 12.5%, all bookings from this point onwards will display the VAT breakdown at this level. Now it's changed back to 20% from the 1st April all bookings from this point onwards will be back to the usual rate.
If a booking was made before 1st October and there is a balance payment yet to be made by the guest, you will need to manually adjust the VAT value in £ after the balance payment was made.
Please check with your bookkeeper or accountant on how you want to record and monitor bookings and their associated payments during this VAT change transition.
Here is some guidance https://www.gov.uk/guidance/hotels-holiday-accommodation-and-vat-notice-7093
How to switch VAT on in your Anytime Booking account.
To switch on display VAT head to your initials top right and Your Account>Account Settings >VAT Settings>Enable VAT.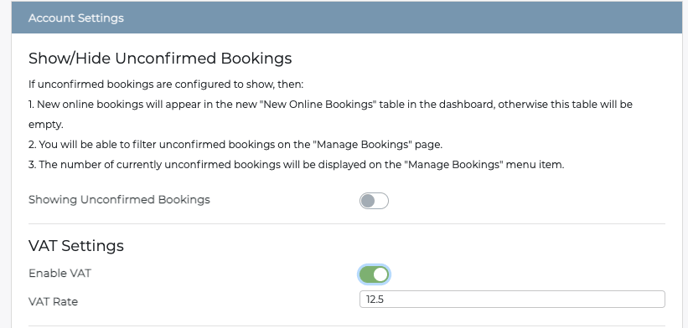 If you want the VAT to show to the Guest in the Booking Summary also then let us know and we will switch that on for you.

Then when your guest makes their booking the holiday cost is broken down in the summary (see below). What you set in your Rates is inclusive of VAT, we take 20% from that rate and display it as the VAT proportion.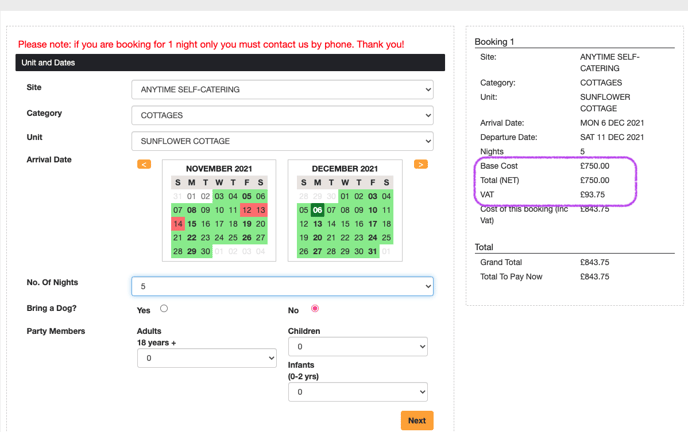 How this is displayed in the booking dialog box in the admin area: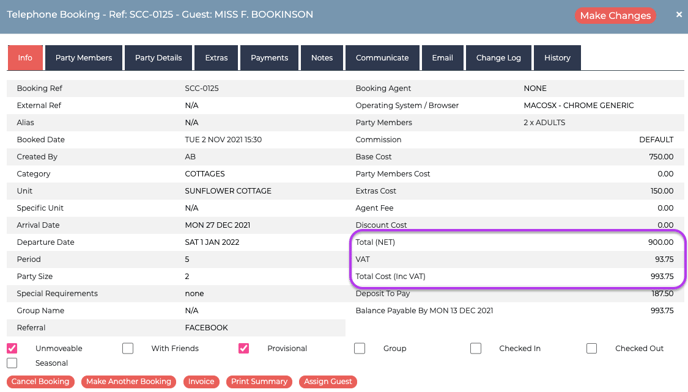 And then there are two extra email tokens to use in any email payment templates:
VAT exclusive/inclusive to your Base Rate:
If you want to make the VAT different to your base rate then this can done on the individual Unit settings Config>Structure>Units>Options tab and alter the dropdown according to your requirements.

Please Note: When VAT is enabled it defaults to 'All Prices Exclude VAT' on the Unit settings.
Did this answer your question?