This article is a guide to making sure that your real time availability is displayed on CLBooking.co.uk and how to make sure that potential guests browsing The CAMC website can find your new on-line booking form.
Connection to www.clbooking.co.uk
If you would like to give your CL site maximum exposure to new bookings then connecting with the website https://clbooking.co.uk is an excellent option. It is also very easy to do.
Your Anytime Booking Account that has been set up with a single Parent Unit and 5 Sub-Units, means that each of your pitches has a unique URL (web page address) reference that is called an iCal (this is short for Internet Calendar).
Providing the 5 URLs to CLBooking.co.uk, means that the calendar that they display on their website will reflect the availability held on your Anytime account.
Guests browsing CLBooking.co.uk will see your site, can select available dates and then be transferred across to your on-line booking page to, hopefully, complete a booking.
To set this up you need to follow these 7 steps;
1 Ask your Anytime account manager to enable the iCal feature on your account.
2 Head to Configuration>Channel Management>iCal Feeds.
3 Move the slider across to so that it changes colour and click Save.



4 To reveal your iCal URLs, select your Category, the Parent Unit and Pitch 1 as below.
5 At the foot of the same screen click on Click Here at the foot of the screen. This will take you to a page where you give Anytime Booking permission to share your iCals.



6 Tick the box bottom left giving your persmission. The screen then displays the unique iCal URLs - one for each of your pitches.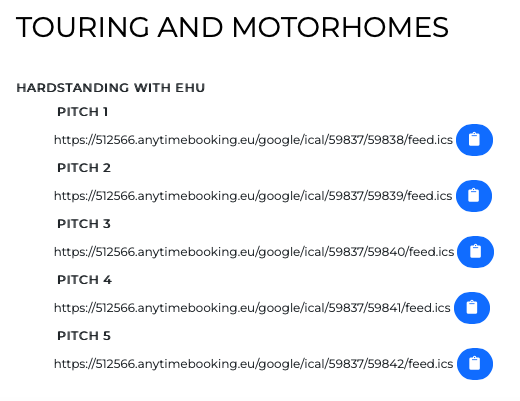 7 You now need to send these details to Ted at CLBooking.co.uk by email - ted@clbooking.co.uk. You can click on the blue copy symbol to copy and paste each URL into the body of an email.
That's it!
CAMC Listing
You may also like to make sure your listing page on the CAMC website also displays your booking page URL. This again means that guests browsing your site can automatically jump to your on-line booking page within your Anytime account.
To make this happen simply email CLresponse@camc.co.uk and give them your booking page URL. This will be something like;
https://thenameofyourCL.anytimebooking.eu/place_booking
Your account manager at Anytime will have already provided this to you.