Connecting with OTAs using iCals
Connect to Canopy & Stars by iCal
How to conect your Anytime Booking account with Canopy and Stars
Synchronising your Calendar with Canopy & Stars
Once you've set up the synchronisation, let Canopy & Stars know and they can make a test booking

They'll then recommend you keep an eye on your next 3 bookings to ensure the feed continues to work as expected
On Anytime Booking click on Setup > Configuration > iCal Feeds > Drill down to specific unit > Select iCal links and then copy the link under 'Export URL'.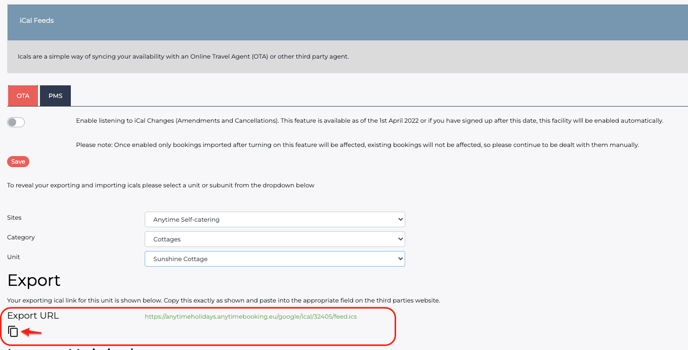 Log-in to Canopy & Stars using your username and password here
Select the property you would like to sync and paste the iCal in.

Step 3
Locate your Canopy & Stars Export iCal and copy. Then head to your Configuration area in Anytime Booking, scroll down to iCal Feeds, select the correct unit, paste the iCal in the Branded box and click Update.

Please allow upto 15 minutes for the accounts to sync.