At Anytime Booking we're totally compliant.
Before the 22nd April 2022, Anytime made the required changes to each payment gateway that we link with to make sure we're compliant with the new Strong Customer Authentication (SCA) and 3D Secure V2 regulations set out in the PSD2 2022.

This means that whilst using your Paypal Business, Worldpay, Opayo or Stripe payment gateway, Anytime are up to date and secure.

If you're using Paypal, they are already looking after you: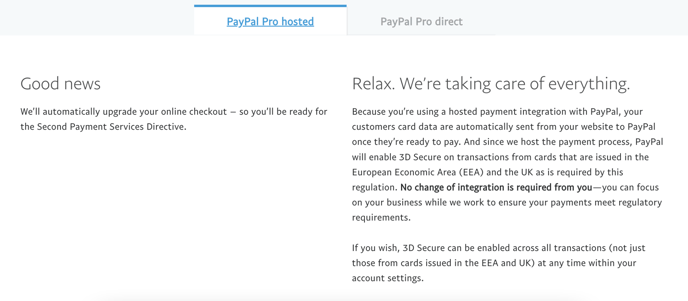 The new rules mean that your guest using their card to pay online, and your own bank account, will both need to be verified and 3D Secure. If not, your guest will have issues making a payment against their booking.

Possible scenarios:

1. Your guest has their card declined.
Reason: they haven't verified their bank account or card connected with that bank account and don't yet have 3D Secure V2 enabled.
Solution: they need to contact their bank account and get that enabled or use a different method to make a payment to you.

2. Your guest has had their card declined, but they have 3D Secure V2 enabled.
Reason: they missed the two-step verification message to their phone or email address.
Solution: try again with the same payment method and advise they check their phone for a code from their bank account.

Please see here for further reading:

PSD2 & SCA Explained