Getting together your content and images for us.
Before we start building a new website we need to have a clear understanding of what you'd like to see as the finished product.
Initially you'll speak with our Front End Developer over a video call and choose a templated design that you like. The next stage is gathering together information, text & images for us to place in that website template. Please see the build timeline here
We encourage you to make a mood board with 'the ingredients' of your website for inspiration and direction. Essentially a mood board is a collage of ideas.

Mood board example: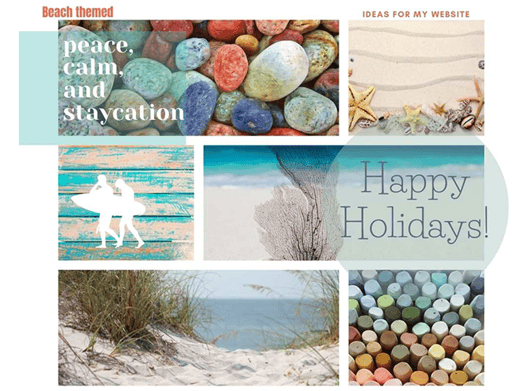 Start by assembling images, fonts and colours you like and reference other websites that appeal to you (URL links are fine). Put together in a 'scrap book' on one page.
This can be on a Word. doc or in a JPEG file.

As well as your mood board we'd like you to upload a Word.doc of the text you want on your website. Here are some guidelines for that document:
1. Finalise it
Finalise your content before you send it to us. It's better to move your ideas around and edit in a Word.doc. Getting it right there first makes it easier for us to apply your ideas to the actual web pages.
2. Start each webpage on a new page
A website is made up of pages. Use a different Word page for each page of your website or a very clear division between each, and label each page 1, 2, 3, Home, Contact, etc, etc
3. Don't get too 'arty' on the Word doc
Use one dark colour for all your text and a lighter one (such as green) for your notes to us. You've already chosen your template, there's no design needed on the word doc, keep it simple for us to understand.
4. Send images separately
Don't copy & paste images into your Word document. This creates double the work for you and more work for us. Word will compress your images so they won't be of any use to us. Send your images including your logo with the page number they will go on clearly labelled. Please send mages in either JPEG or PNG format or speak to us and we can convert certain formats for you.
Image Requirements:
Min size 300px X 300 px
Max size 1000px X 1000px.
Format: JPEG or PNG
Once you have all the details ready and prepared, please use the form below to send everything over:
Content Request Form Anytime Website