This article will guide you through the process of connecting and managing your existing Airbnb listings with your Anytime account
Preparation
Before you begin the process of connecting your Airbnb listings with your Anytime Booking account you must do the following;
Advise us by email that you are

about to integrate. This means that we will be on stand by to do the work on our side - email

support@anytimebooking.co.uk.
Log-in to your Anytime account and remove the iCal for Airbnb Configuration>Icals

Log-in to your Airbnb account and navigate to your Hosting Calendar.

Remove any block-offs that you may have in your Airbnb Hosting Calendar.

Log-in to your Airbnb in a separate tab and navigate to Preview Listing. Open this up so that you can see your Guest Calendar.



You are now set to integrate!
Airbnb Integration Screen
There are four tabs here. The first tab Introduction has a link to Airbnb product and sales news.
There is also a link that takes you to the collection of articles in the Anytime Knowledge Base. These articles detail the what, why and how of this integration.
If you haven't already read these articles, please take 5 minutes to do that before you begin.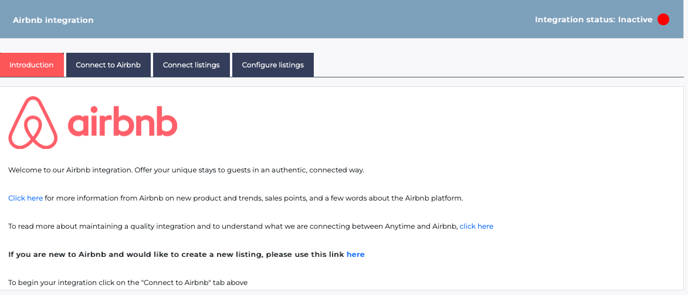 When you are ready to begin integrating head across to the next tab.
Connect to Airbnb
This screen is the Authorisation stage of connecting to Airbnb where an API 'key' is inserted into the page. This key connects Anytime to your Airbnb account.
Clicking Authorise Connection sends a message to our support team who will generate the key and insert it for you.



Once this is done you can progress to the next tab.
Connect Listings
This is the screen where you will actually connect your individual Airbnb listing with the units in your Anytime Booking account.

The instructions at the top of the page, detail exactly what to do;
Assign/Unassign - match your Airbnb property with the appropriate unit in Anytime
Set sync status - either control Rates and Availability from your Anytime account or from Airbnb
Send Rates - if controlling from Anytime, click this to transfer the Rates to Airbnb
Clear Rates - if you wish to remove your Anytime Rates from Airbnb
Make visible online - choose to make the listing visible to guests or not
The Send Rates button will be followed by a message saying that your request is in a queue and that you will be notified when the task is complete.
The process of sending rates will not take very long. You can check that the rates have been uploaded to Airbnb by refreshing your listing calendar.
There are some additional options to configure in the next tab on your screen.
Configure Listings
This tab has options for setting;
Your Currency - this defaults to GBP
A Price Uplift to your Anytime rates - from 0% to 25%
A Default Daily Rate - a price per day that will appear in your Airbnb calendar if there are no rates set in Anytime of if you choose to Clear Rates from Airbnb
Charges for Extras - fees can be set here to add fees for Pets, Linen and Cleaning.
There is a button to Update Pricing when setting a Default Rate or Charges for Extras
If you set a Price Uplift, you will see a pop-up to tell you to head back to Connect Listings and click Send Rates.